Welcome
The Chair of Entrepreneurship and Technology Management pursues the goal of enabling people to act as responsible entrepreneurs. Here you will find our current events as well as general information about us, our work and our partners.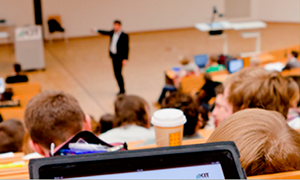 Research Profile
Design Science Research
Business Models
Ecosystems
Entrepreneurship Education
Sustainability

Current Dissertations
Participation in the "Entrepreneurial Skills" program
With the "BaseComp" project of EnTechnon, KIT was selected together with 16 other universities from a total of 69 applicants to further develop Entrepreneurship Education at universities.
The funding program "Entrepreneurial Skills - Anchoring Entrepreneurial Skills in University Teaching" is a joint program of the Stifterverband with the Dieter Schwarz Foundation and Campus Founders in cooperation with Allianz SE.
For further information concerning the program see Stifterverbands für die Deutsche Wissenschaft.
Entrepreneurship Lecture
The lecture starts on 13.04.2021.
Every week, the lecture is accompanied by GuestTalks. The GuestTalks are open to all interested parties.
More about the lecture and the GuestTalks here.
more
Seminars and lectures in SoSe 2021
An overview of our courses in SoSe 2021 can be found here.
If you would like to attend the lecture Entrepreneurship (Prof. Terzidis) in summer term 2021, please register in ILIAS . Since the lecture will take place digitally, this is mandatory in order to receive further information.
The registration for our seminars is possible until 19.03.2021 in the Wiwi-Portal, for the Joint Entrepreneurship School (JES) until 30.04.2021.