Welcome
The Chair of Entrepreneurship and Technology Management pursues the goal of enabling people to act as responsible entrepreneurs. Here you will find our current events as well as general information about us, our work and our partners.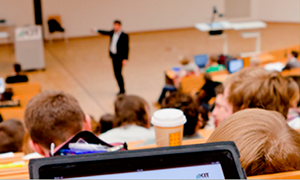 Research Profile
Design Science Research
Business Models
Ecosystems
Entrepreneurship Education
Sustainability

Current Dissertations
Makers of Tomorrow
Germany needs more courage to start up! Therefore, the Makers of Tomorrow online course on entrepreneurship for students is now available at KIT!

The online course, initiated by the Federal Chancellery, aims to encourage people to start their own business and presents ten inspiring founders and their stories.
The course is open to all fields of study, all degrees and all semesters - explicitly no prior knowledge required!
KIT students can find the access code for the online course here in ILIAS.
#makersoftomorrow
More information
Startup X - New Seminar in WS21/22
From the conception of an idea to the final pitch, experience the life of a founder yourself through the new seminar Startup X. Challenge yourself to be a technological entrepreneur and learn how to attain resources to realize your vision.
Want to learn how to create new businesses and thrive in times of uncertainty?
Sign up for Startup Experience and learn useful skills that will help you launch new businesses.
You can combine Startup X (6 ECTS) with the Entrepreneurship lecture (3 ECTS) to complete the module Entrepreneurship [M-WIWI-101488].
Registration for the seminar in WS 21/22 is open in the WIWI-Portal until 01.10.2021.
More info here
Lectures and seminars in WS 2021/22
Our new seminar for Master students will start in winter semester 21/22:
Startup Experience!
From the conception of an idea to the final pitch, experience the life of a founder yourself through the new seminar Startup X.
During this course, you will learn the essentials of technology-based entrepreneurship: The focus of the seminar is Opportunity Recognition based on KIT patents or other new technologies, followed by ideation sessions with the aim to find possible meaningful applications. Prototyping, business model development, and pitching are part of the seminar.
More information about our seminars can be found on the following pages.
The registration for all our seminars in the winter semester is possible in the Wiwi-Portal until 01.10.2021.
Lehrveranstaltungen WS 21/22
Service Design Thinking (SDT) Program - Application phase in full swing
The application phase for the Service Design Thinking (SDT) program is currently in full swing. This extraordinary teaching program (13.5 ECTS) is aimed at students who are currently in the master's program or who will start by the end of the year.
Over a 9-month period (starting October 2021), students receive intensive training in approaches to human-centric innovation (design thinking) and apply their knowledge to challenges posed by well-known organizations, in teams together with students from a SUGAR partner university. Each team receives its own coach, its own team budget, and project space.
Informationen & Application
upCAT Demo Day & Sustainable Innovation Challenge (ARRTI)
A successful and exciting round of KIT's own Accelerator Program upCAT is coming to an end - on July 20 from 4-6 p.m. the virtual Demo Day will take place!
In addition to presentations of the upCAT participants you will see pitches from student teams of the KIT Sustainable Innovation Challenge. (Go to ARRTI to learn more about this Challenge and the program of the Academy for Responsible Research, Teaching, and Innovation).
Registration and more information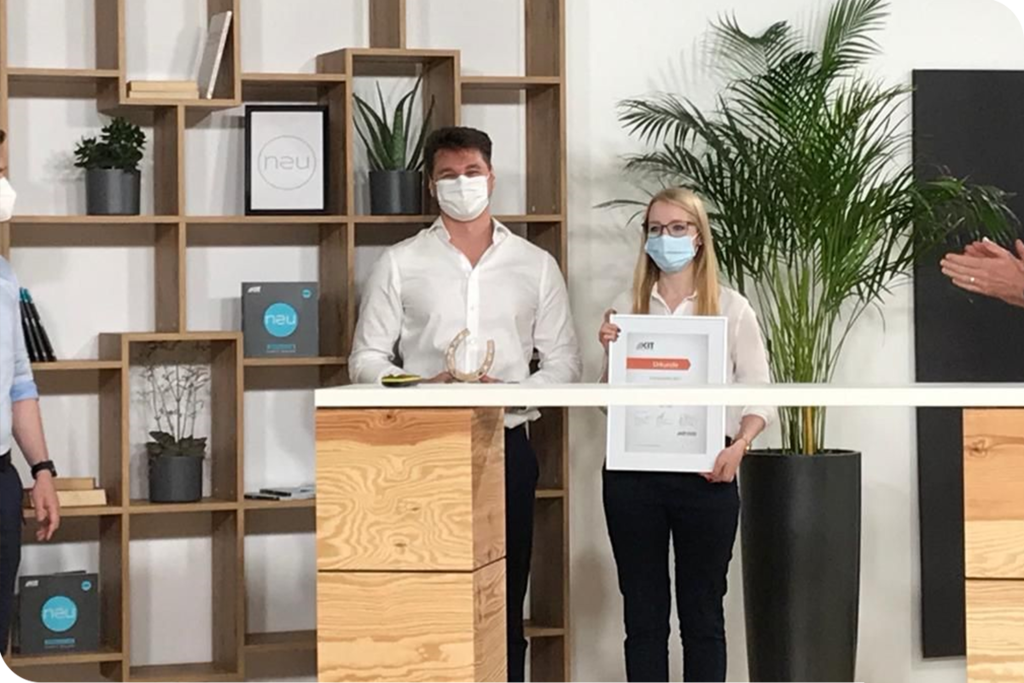 upCAT Alumni wins KIT NEULAND Gründerpitch
The startup catavis, which participated in our upCAT accelerator in 2020, could convince at the KIT NEULAND Gründerpitch and won the 1st place. Additionally, they were awarded by the viewers with the audience award.
Congratulations to Sandra Kröll, Dr. Patrick Bitterwolf and Dr. Ahmed Zoheir!
More information
Stellenausschreibung Screeningmanager/Doktorand (w/m/d)
Wir suchen für unser Team eine/n akademische/n Mitarbeiter/in als Screeningmanager im Bereich Entrepreneurship und IT-Sicherheit.
Im Rahmen des Projekts StartUpSecure KASTEL, einem regionalen CyberSecurity Programm und Inkubator für Gründungsinteressierte und Startups im Bereich IT-Sicherheit, sind Sie neben Tätigkeiten im Lehrbetrieb eingebunden in die Konzeption und Mitarbeit bei Projektaktivitäten wie der Identifikation neuer Anwendungsfelder für bestehende Technologien und dem Aufbau eines Promotorennetzwerks.
Zur Ausschreibung
Link_more
KIT Sustainable Innovation Challenge
Make an impact in this world and pARRTIcipate in the student challenge at KIT – sponsored by ARRTI
Supporting sustainability is necessary for a positive impact on the global economy and to sustain lives worldwide. The KIT Sustainable Innovation Challenge seeks to motivate students from KIT to tackle problems with their ideas designed to create a more sustainable world for all.
Get involved and design a meaningful idea towards the much-needed change for a better world!
Deadline for Application is June 21.
More information
Participation in the "Entrepreneurial Skills" program
With the "BaseComp" project of EnTechnon, KIT was selected together with 16 other universities from a total of 69 applicants to further develop Entrepreneurship Education at universities.
The funding program "Entrepreneurial Skills - Anchoring Entrepreneurial Skills in University Teaching" is a joint program of the Stifterverband with the Dieter Schwarz Foundation and Campus Founders in cooperation with Allianz SE.
For further information concerning the program see Stifterverbands für die Deutsche Wissenschaft.
Link_more