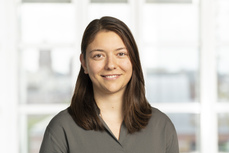 Christin Eckerle
Gebäude 01.85

Zähringerhaus 5. OG

Fritz-Erler-Str. 1-3

76133 Karlsruhe
Christin Eckerle
Christin Eckerle has been a research associate and doctoral candidate at the Institute for Entrepreneurship, Technology Management and Innovation (EnTechnon) since July 2020. Her responsibilities at the institute include the conception and implementation of entrepreneurship seminars with the goal of developing innovative approaches to solutions in the context of new technologies and emerging needs. This includes the seminars Entrepreneurship Basics and the Student Innovation Lab. Furthermore, she is involved in various workshops with the topics of sustainability and impact in co-teaching. She is also part of the KIT excellence project ARRTI (Academy for Responsible Research, Teaching and Innovation).
Before joining EnTechnon, Christin Eckerle worked at CyberForum e.V. as a project manager. From July 2019, she was the project manager for the Digital Hub Applied Artificial Intelligence.
Until May 2021 she worked as a business development manager at Neohelden GmbH.
In August 2018, she completed her studies in Political and Administrative Science (M.A.) at the University of Konstanz, of which she studied one semester at the University of Vienna. During her studies, she also worked as an auxiliary researcher at the Chair of Material State Theory in Network Research.