Welcome
The Chair of Entrepreneurship and Technology Management pursues the goal of enabling people to act as responsible entrepreneurs. Here you will find our current events as well as general information about us, our work and our partners.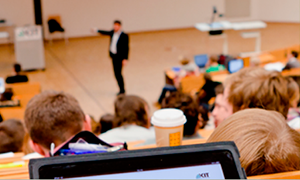 Research Profile
Design Science Research
Business Models
Ecosystems
Entrepreneurship Education
Sustainability

Current Dissertations
Events ARRTI in WS 2020/21
The new KIT Academy for Responsible Research, Teaching, and Innovation (ARRTI) will host an exciting discussion round on December 1, 2020, at 6 p.m. on the topic " Nuclear Future - Utopia or Nightmare? and two interesting lecture series (How much uncertainty can society tolerate? / The Future of Electricity and Mobility).
upCAT 2021 Save-the-Date
KIT's own upCAT Deeptech Accelerator will take place again in 2021!
The kick-off event is planned for March 2021, the application phase will be open from 1 - 31 January 2021.
Further information will follow soon here.
Application for PRE-GROW online!
In the GROW contest offered by the PionerGarage, you can develop and test your business ideas. You don't have a business idea? Or you think nothing can stop you from selling the next party app in Corona times?
For you we designed the PRE-GROW event to develop business opportunities and start the GROW contest with a promising and validated idea.
Apply for the Opportunity Recognition Workshop and start to GROW!
For more information and application, visit the GROW website.
Registration seminars WS 20/21
Registration for our seminars for Bachelor (Entrepreneurship Basics) and Master students (Business Planning for Founders, Design Thinking, Business Planning for Founders in IT-Security) is possible until 14.10.2020 in the WIWI-Portal.

Further information about the courses here.
Student Innovation Lab
Have you always wanted to experience what it is like to pursue an innovative product idea in your own start-up?
Apply now for the Student Innovation Lab!
In the one-year practical course (15-18 ECTS) you will experience the complete process of a start-up in a team, from brainstorming to the implementation of a prototype to the pitch in front of potential investors.
Apply viakit-sil.com until 8 November 2020.