Welcome
The Chair of Entrepreneurship and Technology Management pursues the goal of enabling people to act as responsible entrepreneurs. Here you will find our current events as well as general information about us, our work and our partners.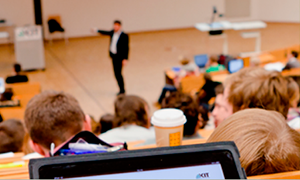 Research Profile
Design Science Research
Business Models
Ecosystems
Entrepreneurship Education
Sustainability

Current Dissertations
Seminars and lectures in SoSe 2021
An overview of our courses in SoSe 2021 can be found here.
If you would like to attend the lecture Entrepreneurship (Prof. Terzidis) in summer term 2021, please register in ILIAS. Since the lecture will take place digitally, this is mandatory in order to receive further information.
The registration for our seminars is possible until 19.03.2021 in the Wiwi-Portal.
upCAT 2021
KIT's own upCAT Deeptech Accelerator will take place again in 2021!
The kick-off event is planned for March 2021, the application phase is open until February 10, 2021.
Events ARRTI in WS 2020/21
The new KIT Academy for Responsible Research, Teaching, and Innovation (ARRTI) will hold an exciting panel discussion on Nuclear Future - Utopia or Nightmare? on December 1, 2020 at 6 pm. as well as two interesting lecture series starting in January (How much uncertainty can society tolerate? / The future of electricity and mobility).
Student Innovation Lab
Have you always wanted to experience what it's like to pursue an innovative product idea in your own startup?
Apply now for the Student Innovation Lab!
In the one-year practical course (15-18 ECTS), you will experience the complete process of a startup in a team, from brainstorming to implementing a prototype to pitching to potential investors.
Apply viakit-sil.de until November 8, 2020.